Citrine & Clear Quartz Necklace
/
Citrine & Clear Quartz Necklace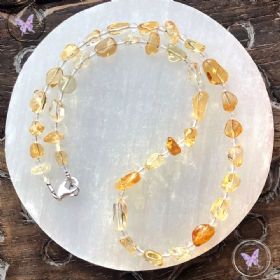 £
39.00
In stock
£39.00
Product code: N137

Pretty necklace featuring 8x6mm pebbles of Citrine and tiny 3mm Clear Quartz beads. This necklace measures approx. 40cm long and has a sterling silver carabiner clasp.
All Charms Of Light Healing Jewellery is Reiki enhanced and hand made with love and healing intentions.

Please note that photos are for reference purposes only. Due to the nature of crystals, all beads will vary slightly in shape, size, colour and pattern.
Citrine
♥ Happiness ♥ Prosperity ♥ Generosity ♥ Creativity ♥ Pleasure ♥ Protection ♥ Strength ♥ Alignment ♥ Confidence ♥ Stability ♥ Moderation ♥ Energy ♥ Comfort ♥ Success ♥ Truth ♥ Goodness ♥ Warmth ♥ Digestion ♥ Assimilation ♥ Enjoyment of life ♥ Spiritual growth
Citrine is a variety of Quartz. Citrine is a 13th Anniversary gemstone.
Chakras - Sacral Chakra, Solar Plexus Chakra, Crown Chakra
Birthstone - November
Zodiac - Aries, Gemini, Leo, Libra
Planet - Jupiter
Element - Air
Numerical Vibration - Number 6
Typical colours - yellow to yellowish brown or smokey grey-brown
Citrine energises every level of life. It cleanses the chakras and opens the intuition. Citrine attracts wealth, prosperity and success. It imparts joy, wonder, delight and enthusiasm. Raises self-esteem and self-confidence. Stimulates the brain, strengthening the intellect. Citrine promotes motivation, activates creativity and encourages self-expression. Enhances concentration and revitalises the mind. It releases negative traits, depression, fears and phobias. Emotionally balancing.
Energising and recharging, Citrine also reverses degenerative disease and helps balance chemical imbalances in the body. Beneficial in the treatment of diabetes, it stimulates digestion, the spleen and pancreas. Negates kidney and bladder infections. Citrine helps eye problems, increases blood circulation, detoxifies the blood, activates the thymus and balances the thyroid. Relieves constipation and removes cellulite.

Shop - Citrine Jewellery & Gifts
Clear Quartz
♥ Harmony ♥ Energy ♥ Healing ♥ Psychic abilities ♥ Clarity ♥ Calmness
Clear Quartz is also known as Crystal Quartz or Rock Crystal. It is a natural form of silicon dioxide and is a 10th Anniversary gemstone.
Chakras - Crown Chakra
Birthstone - April
Zodiac - All birthsigns
Planet – Sun
Element – All (Earth/Fire/Air/Water)
Numerical Vibration - Number 4
Typical colours - Pure Quartz is colourless or white
Clear Quartz is known as the "master healer" and will amplify energy and thought, as well as the effect of other crystals. It absorbs, stores, releases and regulates energy. Clear Quartz draws off negative energy of all kinds, neutralising background radiation, including electromagnetic smog or petrochemical emanations. It balances and revitalises the physical, mental, emotional and spiritual planes. Cleanses and enhances the organs and subtle bodies and acts as a deep soul cleanser, connecting the physical dimension with the mind. Clear Quartz enhances psychic abilities. It aids concentration and unlocks memory. Stimulates the immune system and brings the body into balance. Clear Quartz (Crystal Quartz, Rock Crystal) harmonises all the chakras and aligns the subtle bodies.

Shop - Clear Quartz Jewellery & Gifts
Most gemstone jewellery is fairly durable, but some care does need to be taken.
Remove jewellery before doing any housework - household cleaners are corrosive and may permanently damage your gems;
Remove jewellery before doing any manual labour; or work requiring hands to be immersed in water.
Remove jewellery before swimming or showering - chlorine, some soaps and just immersing in water, may cause damage to your gemstones or their settings;
Remove jewellery before sleeping - tossing and turning in your sleep puts excess strain on your jewellery, causing it to become loose or even break;
Only put on your jewellery after perfume and/or hair care products have dried - these may cause breakdown of the stones;
Store in a dark place, out of direct sunlight, in a pouch, ziplock bag, or jewellery box - sunlight may cause fading of stones and the humidity in the air can cause tarnishing to silver.
General Cleaning
If your macrame jewellery requires cleaning, you can use some mild or diluted liquid soap on the cord only, on occasion. Make sure you rinse the soap off quickly with cold water and dry the cord by pressing between a soft towel to remove excess water.
Silver can tarnish quite easily, leaving it looking black and dirty. To ensure that your silver is kept shiny it can be polished gently with a jewellery cloth, or you can use a standard silver polish.
Copper is likely to develop a distinctive patina. Patina is not a "defect", it is a natural by-product. If you do not like the patina effect, you can clean copper goods using standard copper polish.
Brass will naturally tarnish, leaving a greenish patina. Patina is not a "defect", it is a natural by-product that adds colour and character. To preserve the patina effect, you can clean your brass jewellery with soap and warm water every now and then, to remove the dirt and grime build up. Simply wipe gently with a soft cloth and dry the jewellery well, to avoid water stains. If you do not like the patina, using a polishing cloth will remove it, or you can use a simple mixture of the juice of one lemon and one cup of water. Submerge the brass in the mixture and leave in the juice for about 15-30 minutes. Use a soft cloth or a soft-bristled toothbrush to gently remove the tarnish. Rinse thoroughly with water and wipe dry.
TAKE CARE using polishes and tarnish removers around your gemstones, as these can cause your gemstones to become dull and fade.
A soft cloth can be used to wipe over all your gemstones. As some gemstones are more sensitive to getting wet than others, it is always better to keep them dry as much as possible.