Red Jasper, Picture Jasper & Rutilated Quartz Crystal Chip Stretch Bracelet
/
Red Jasper, Picture Jasper & Rutilated Quartz Crystal Chip Stretch Bracelet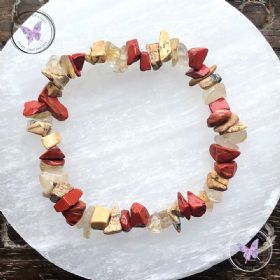 £
16.50
In stock
£16.50
Product code: Br312e

Pretty mixed chip stretch bracelet featuring Red Jasper, Picture Jasper, and Rutilated Quartz crystal beads on stretch elastic. This bracelet measures approx. 19cm around.
Looks great on its own or stacked with other bracelets.
All Charms Of Light Healing Jewellery is Reiki enhanced and hand made with love and healing intentions.

Please note that photos are for reference purposes only. Due to the nature of crystals, all beads will vary slightly in shape, size, colour and pattern.
Jasper
♥ Relaxation ♥ Contentment ♥ Compassion ♥ Nurturing ♥ Consolation ♥ Tranquility ♥ Healing ♥ Completion
Jasper is a variety of Chalcedony, which is a microcrystalline variety of Quartz.
Zodiac - Leo, Virgo, Scorpio
Planet - Mars
Element - Fire
Numerical Vibration - Number 6
Typical colours - brown, red, orange, yellow, green
Jasper is known as the "supreme nurturer". It sustains and supports through times of stress, and brings tranquility and wholeness. Jasper provides protection and absorbs negative energy. It balances yin and yang. Jasper clears electromagnetic and environmental pollution, including radiation. It encourages honesty with one's self. Provides courage to assertively tackle problems. Aids quick-thinking and promotes organisational abilities. Jasper stimulates the imagination and transforms ideas into action. Prolongs sexual pleasure. It supports during prolonged illness and re-energises the body.
In addition to the generic healing properties of Jasper, specific colours and forms have additional attributes:
Red Jasper
Chakras - Base Chakra
Element - Fire
Numerical Vibration - Number 6
Red Jasper is gently stimulating and also an extremely protective stone. It can neutralise radiation and other forms of environmental and electromagnetic pollution. Red Jasper rectifies unjust situations and grounds energy. Brings problems to light and provides insights into difficult situations. An excellent "worry bead", Red Jasper calms the emotions. Aids in dream recall. Cleans and stabilises the aura. A stone of health, Red Jasper strengthens and detoxifies the circulatory system, blood and liver.
Picture Jasper
Zodiac - Leo
Numerical Vibration - Number 8
Typical colours - brown with black and dark brown markings
Picture Jasper encourages ecological awareness, bringing stability and balance. It contains a message and/or "picture" from the past. Picture Jasper is a stone of proportion and harmony and stimulates creative visualisation. It helps to bring hidden thoughts and feelings - griefs, fears, guilt, envy, love, hope - to the surface, to be released. Brings comfort and alleviates fear. Picture Jasper stimulates the immune system and helps treat disorders of the skin and kidneys.

Shop - Jasper Jewellery & Gifts
Rutilated Quartz
♥ Protection ♥ Determination ♥ Self-control ♥ Strength of will ♥ Self-reliance ♥ Firmness
Rutilated Quartz is a variety of Quartz which contains naturally occurring strands of Rutile.
Chakras - All Chakras
Zodiac (Clear Quartz) - All birthsigns
Zodiac (Rutile) - Gemini, Taurus
Element - Air, Fire
Typical colours - Clear with golden brown, reddish, or black strands of rutile
Rutilated Quartz is an illuminator for the soul, promoting spiritual growth. It cleanses and energises the aura. Draws off negative energy and disease, letting go of the past. Rutilated Quartz gives protection against the ill thoughts of others. It helps to reach the root of problems and facilitates transitions and a change of direction. Soothes dark moods and acts as an antidepressant. Rutilated Quartz relieves fears, phobias and anxiety. Promotes forgiveness at all levels.
Rutilated Quartz absorbs mercury poisoning from nerves, muscles, blood and the intestinal tract. It is helpful for chronic conditions and for impotence and infertility. Aids exhaustion and lack of energy. Rutilated Quartz treats respiratory tract and bronchitis, stimulates and balances the thyroid. It stimulates cell regeneration and repairs torn tissue.

Shop - Rutilated Quartz Jewellery & Gifts
Most gemstone jewellery is fairly durable, but some care does need to be taken.
When putting on a stretch bracelet, roll it on to your wrist gently. Do not pull it outwards as this can unneccesarily stretch the elastic out of shape.
Remove jewellery before doing any housework - household cleaners are corrosive and may permanently damage your gems;
Remove jewellery before doing any manual labour; or work requiring hands to be immersed in water.
Remove jewellery before swimming or showering - chlorine, some soaps and just immersing in water, may cause damage to your gemstones or their settings;
Remove jewellery before sleeping - tossing and turning in your sleep puts excess strain on your jewellery, causing it to become loose or even break;
Only put on your jewellery after perfume and/or hair care products have dried - these may cause breakdown of the stones;
Store in a dark place, out of direct sunlight, in a pouch, ziplock bag, or jewellery box - sunlight may cause fading of stones and the humidity in the air can cause tarnishing to silver.
General Cleaning
Silver can tarnish quite easily, leaving it looking black and dirty. To ensure that your silver is kept shiny it can be polished gently with a jewellery cloth, or you can use a standard silver polish.
Copper is likely to develop a distinctive patina. Patina is not a "defect", it is a natural by-product. If you do not like the patina effect, you can clean copper goods using standard copper polish.
TAKE CARE using polishes and tarnish removers around your gemstones, as these can cause your gemstones to become dull and fade.