Jade & Russian Serpentine Crystal Chip Stretch Bracelet
/
Jade & Russian Serpentine Crystal Chip Stretch Bracelet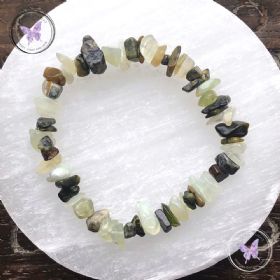 £
17.00
In stock
£17.00
Product code: Br311e

Pretty mixed chip stretch bracelet featuring Jade and Russian Serpentine crystal beads on stretch elastic. This bracelet measures approx. 19cm around.
Looks great on its own or stacked with other bracelets.
All Charms Of Light Healing Jewellery is Reiki enhanced and hand made with love and healing intentions.

Please note that photos are for reference purposes only. Due to the nature of crystals, all beads will vary slightly in shape, size, colour and pattern.
Jade
♥ Stability ♥ Longevity ♥ Fertility ♥ Serenity ♥ Wisdom ♥ Practicality ♥ Tranquility ♥ Balance ♥ Peace ♥ Harmony ♥ Moderation ♥ Perspective
Jade is a 12th Anniversary gemstone. Other varieties of Jade include: Jadeite and Nephrite. Serpentine is the correct name for New Jade.
Chakras - Heart Chakra
Zodiac - Aries, Taurus, Gemini, Libra
Element - Earth
Numerical Vibration - Master Number 11
Typical colours - Creamy white, pale green to emerald green, blue, lavender-mauve and pink.
Jade is a symbol of serenity and purity. It signifies wisdom gathered in tranquility. It increases love and nurturing. A protective stone, Jade keeps the wearer from harm and brings harmony. Jade attracts good luck and friendship. It stabilises the personality and promotes self-sufficiency. Soothes the mind, releasing negative thoughts. Stimulates ideas. A "dream stone", Jade brings insightful dreams. It aids emotional release, especially of irritability. Jade encourages you to become who you really are.
Jade aids the body's filtration and elimination organs. It is excellent for treating kidney problems and adrenal glands. Jade removes toxins, rebinds skeletal and cellular systems, and heals stitches. It assists fertility and childbirth. Jade balances body fluids.
In addition to the generic healing properties of Jade, specific forms and colours have additional attributes:
Green Jade
Chakras - Heart Chakra
Planet - Mercury
Typical colour - Green

Shop - Jade Jewellery & Gifts
Serpentine
♥ Longevity ♥ Remembrance of past lives
Serpentine is the correct name for New Jade.
Zodiac - Gemini
Element - Earth, Air
Numerical Vibration - Number 8
Typical colours - Green, black-green, brown-red, brown-yellow, white.
An earthing stone, Serpentine also opens new pathways for the Kundalini energy. It aids in meditation and enhances spiritual exploration. Serpentine assists the retrieval of wisdom, helping to regain memory of past lives. It clears the chakras and stimulates the crown chakra, opening psychic abilities. Serpentine assists the conscious direction of healing energy toward problem areas. It corrects mental and emotional imbalances, helping you to feel more in control of your life.
Serpentine treats diabetes and hypoglycemia. It eliminates parasites within the body, and aids in the absorption of calcium and magnesium. Serpentine is extremely cleansing and detoxifying for the body and blood.

Shop - Serpentine Jewellery & Gifts
Most gemstone jewellery is fairly durable, but some care does need to be taken.
When putting on a stretch bracelet, roll it on to your wrist gently. Do not pull it outwards as this can unneccesarily stretch the elastic out of shape.
Remove jewellery before doing any housework - household cleaners are corrosive and may permanently damage your gems;
Remove jewellery before doing any manual labour; or work requiring hands to be immersed in water.
Remove jewellery before swimming or showering - chlorine, some soaps and just immersing in water, may cause damage to your gemstones or their settings;
Remove jewellery before sleeping - tossing and turning in your sleep puts excess strain on your jewellery, causing it to become loose or even break;
Only put on your jewellery after perfume and/or hair care products have dried - these may cause breakdown of the stones;
Store in a dark place, out of direct sunlight, in a pouch, ziplock bag, or jewellery box - sunlight may cause fading of stones and the humidity in the air can cause tarnishing to silver.
General Cleaning
Silver can tarnish quite easily, leaving it looking black and dirty. To ensure that your silver is kept shiny it can be polished gently with a jewellery cloth, or you can use a standard silver polish.
Copper is likely to develop a distinctive patina. Patina is not a "defect", it is a natural by-product. If you do not like the patina effect, you can clean copper goods using standard copper polish.
TAKE CARE using polishes and tarnish removers around your gemstones, as these can cause your gemstones to become dull and fade.