Chrysoprase Silver Pendant
/
Chrysoprase Silver Pendant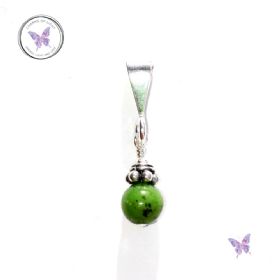 £
12.50
In stock
£12.50
Product code: PChrase001

Pretty Chrysoprase Pendant featuring Sterling Silver accents. This pendant measures approx. 25mm long from the top of a sterling silver bail.
All Charms Of Light Healing Jewellery is Reiki enhanced and hand made with love and healing intentions.
Please note that photos are for reference purposes only. Due to the nature of crystals, all beads will vary slightly in shape, size, colour and pattern.
Chrysoprase
♥ Spiritual protection ♥ Communication ♥ Eloquence ♥ Balance ♥ Stability ♥ Adaptability ♥ Alternatives ♥ Choices ♥ Higher Consciousness ♥ Youthful zest ♥ Hope
Chrysoprase is an apple-green variety of Chalcedony that contains small quantities of nickel.
Chakras - Sacral Chakra, Heart Chakra
Birthstone - May
Zodiac - Taurus, Gemini, Libra
Numerical Vibration - Number 3
Typical colours - Apple green
Chrysoprase opens, activates and energises the heart and sacral chakras, balances yin-yang energy, and brings Universal energy into the physical body. It induces deep meditative states, and imparts a sense of being a part of the divine whole.
Chrysoprase promotes love of truth. It promotes hope, and encourages fidelity in business and personal relationships. It stimulates creativity and draws out ones talents. Chrysoprase heals the inner child, releasing emotions locked in since childhood. It can mend a broken heart, heal relationships and transmute negative emotions into positive ones. Chrysoprase helps one to overcome compulsive or impulsive angry thoughts and behaviour, and turns your attention to positive events. It brings a sense of security and trust and is useful in healing codependence whilst supporting independence and encouraging commitment. It provides for non-judgmental attitudes and stimulates acceptance of oneself and others.
Chrysoprase is a strong detoxifying stone. It eliminates waste from the body, as well as the mind, by stimulating the liver and encouraging the body to rid itself of poisons. It is excellent for relaxation and promoting a peaceful night's sleep, reducing claustrophobia and preventing nightmares.
Chrysoprase balances the hormones and treats the reproductive organs, fertility problems, and guards against sexually transmitted diseases. It treats disorders of the lungs and thymus, and soothes the digestive system. Aids mental and physical illness and exhaustion. Treats skin diseases and disorders of the heart. Chrysoprase increases the assimilation of Vitamin C.

Shop - Chrysoprase Jewellery & Gifts
Most gemstone jewellery is fairly durable, but some care does need to be taken.
Remove jewellery before doing any housework - household cleaners are corrosive and may permanently damage your gems;
Remove jewellery before doing any manual labour; or work requiring hands to be immersed in water.
Remove jewellery before swimming or showering - chlorine, some soaps and just immersing in water, may cause damage to your gemstones or their settings;
Remove jewellery before sleeping - tossing and turning in your sleep puts excess strain on your jewellery, causing it to become loose or even break;
Only put on your jewellery after perfume and/or hair care products have dried - these may cause breakdown of the stones;
Store in a dark place, out of direct sunlight, in a pouch, ziplock bag, or jewellery box - sunlight may cause fading of stones and the humidity in the air can cause tarnishing to silver.
General Cleaning
Silver can tarnish quite easily, leaving it looking black and dirty. To ensure that your silver is kept shiny it can be polished gently with a jewellery cloth, or you can use a standard silver polish.
Copper is likely to develop a distinctive patina. Patina is not a "defect", it is a natural by-product. If you do not like the patina effect, you can clean copper goods using standard copper polish.
TAKE CARE using polishes and tarnish removers around your gemstones, as these can cause your gemstones to become dull and fade.