Moss Agate 4mm double wrap bracelet
/
Moss Agate 4mm double wrap bracelet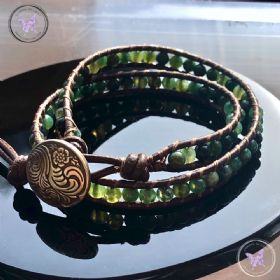 £
35.00
In stock
£35.00
Product code: BrMA4dwr

Gorgeous Moss Agate double wrap bracelet featuring 4mm round Moss Agate gemstone beads, with brown leather cord and a copper toned button. This bracelet wraps around your wrist twice. It measures approx. 36cm (14 inches) to the first loop closure, with an additional closure for adustable sizing.

This bracelet is made to order. Please allow extra time for delivery.
All Charms Of Light Healing Jewellery is Reiki enhanced and hand made with love and healing intentions.

Please note that photos are for reference purposes only. Due to the nature of crystals, all beads will vary slightly in shape, size, colour and pattern.
Moss Agate
♥ Prosperity ♥ Success ♥ Abundance ♥ Congeniality ♥ Compatibility ♥ Healing ♥ Restoration ♥ Fertility of plants ♥ Protection of the earth ♥ Creativity ♥ Confidence ♥ Strength ♥ Development of new friendships ♥ Finding a compatible lover
Moss Agate is an Agate variety of Chalcedony.
Chakras - Heart Chakra
Zodiac - Virgo
Planet - Moon
Element - Earth
Numerical Vibration - Number 1
Typical colours - Green, blue, red, yellow, brown
In addition to the generic healing properties of Agate and Chalcedony, Moss Agate is a stone of new beginnings. Refreshes the soul and enables you to see beauty in all you behold. Moss Agate reduces sensitivity to weather and environmental pollutants. It attracts abundance in wealth and improves self-esteem. Develops strength and the ability to get along with others. Inspires new ideals after periods of stagnation. Moss Agate promotes self-expression and communication. Balances the emotions, releasing fear and stress. Encourages trust and hope. It eliminates depression caused by brain imbalances.
Moss Agate speeds up recovery from illness. It is anti-inflammatory, cleanses the circulatory and elimination systems, and boosts the immune system. It assists midwives by lessening pain and ensuring a good delivery. Moss Agate prevents hypoglycemia and dehydration, treats infections, colds and flu, and lowers fevers. Treats fungal and skin infections.

Shop - Moss Agate Jewellery & Gifts
Most gemstone jewellery is fairly durable, but some care does need to be taken.
Remove jewellery before doing any housework - household cleaners are corrosive and may permanently damage your gems;
Remove jewellery before doing any manual labour; or work requiring hands to be immersed in water.
Remove jewellery before swimming or showering - chlorine, some soaps and just immersing in water, may cause damage to your gemstones or their settings;
Remove jewellery before sleeping - tossing and turning in your sleep puts excess strain on your jewellery, causing it to become loose or even break;
Only put on your jewellery after perfume and/or hair care products have dried - these may cause breakdown of the stones;
Store in a dark place, out of direct sunlight, in a pouch, ziplock bag, or jewellery box - sunlight may cause fading of stones and the humidity in the air can cause tarnishing to silver.
General Cleaning
Silver can tarnish quite easily, leaving it looking black and dirty. To ensure that your silver is kept shiny it can be polished gently with a jewellery cloth, or you can use a standard silver polish.
Copper is likely to develop a distinctive patina. Patina is not a "defect", it is a natural by-product. If you do not like the patina effect, you can clean copper goods using standard copper polish.
TAKE CARE using polishes and tarnish removers around your gemstones, as these can cause your gemstones to become dull and fade.