Clear Quartz & Amethyst Stretch Bracelet
/
Clear Quartz & Amethyst Stretch Bracelet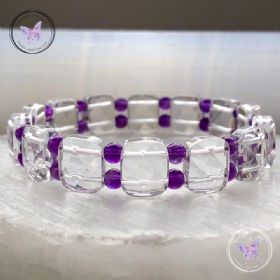 £
30.00
In stock
£30.00
Product code: Br317e

Gorgeous stretch bracelet featuring 10x12mm faceted Clear Quartz gemstone beads and 4mm round Amethyst gemstone beads. This bracelet measures approx. 19cm around.
All Charms Of Light Healing Jewellery is Reiki enhanced and hand made with love and healing intentions.

Please note that photos are for reference purposes only. Due to the nature of crystals, all beads will vary slightly in shape, size, colour and pattern.
Clear Quartz
♥ Harmony ♥ Energy ♥ Healing ♥ Psychic abilities ♥ Clarity ♥ Calmness
Clear Quartz is also known as Crystal Quartz or Rock Crystal. It is a natural form of silicon dioxide and is a 10th Anniversary gemstone.
Chakras - Crown Chakra
Birthstone - April
Zodiac - All birthsigns
Planet – Sun
Element – All (Earth/Fire/Air/Water)
Numerical Vibration - Number 4
Typical colours - Pure Quartz is colourless or white
Clear Quartz is known as the "master healer" and will amplify energy and thought, as well as the effect of other crystals. It absorbs, stores, releases and regulates energy. Clear Quartz draws off negative energy of all kinds, neutralising background radiation, including electromagnetic smog or petrochemical emanations. It balances and revitalises the physical, mental, emotional and spiritual planes. Cleanses and enhances the organs and subtle bodies and acts as a deep soul cleanser, connecting the physical dimension with the mind. Clear Quartz enhances psychic abilities. It aids concentration and unlocks memory. Stimulates the immune system and brings the body into balance. Clear Quartz (Crystal Quartz, Rock Crystal) harmonises all the chakras and aligns the subtle bodies.

Shop - Clear Quartz Jewellery & Gifts
Amethyst
♥ Increases nobility ♥ Spiritual awareness ♥ Psychic abilities ♥ Inner peace and healing ♥ Healing of body, mind & soul ♥ Positive transformation ♥ Meditation ♥ Balance ♥ Relieves stress ♥ Communication
Amethyst is a variety of Quartz and is a 6th Anniversary gemstone.
Chakras - Third Eye Chakra, Crown Chakra
Birthstone - February
Zodiac - Virgo, Sagittarius, Capricorn, Aquarius, Pisces
Planet – Jupiter
Element – Air, Water
Numerical Vibration - Number 3
Typical colours - light slightly-pinkish violet to a deep grape purple
Amethyst is a powerful and protective stone. It guards against psychic attack, transmuting the energy into love and protecting the wearer from all types of harm, including geopathic or electromagnetic stress and ill wishes from others. Amethyst is a natural tranquiliser, it relieves stress and strain, soothes irritability, balances mood swings, dispels anger, rage, fear and anxiety. Alleviates sadness and grief, and dissolves negativity. Amethyst activates spiritual awareness, opens intuition and enhances psychic abilities. It has strong healing and cleansing powers. Amethyst encourages sobriety, having a sobering effect on overindulgence of alcohol, drugs or other addictions. It calms and stimulates the mind, helping you become more focused, enhancing memory and improving motivation. Amethyst assists in remembering and understanding dreams. It relieves insomnia. Encourages selflessness and spiritual wisdom.
Amethyst boosts hormone production, tunes the endocrine system and metabolism. It strengthens the immune system, reduces pain and strengthens the body to fight against cancer. It destroys malignant tumours and aids in tissue regeneration. Cleanses the blood. Relieves physical, emotional and psychological pain or stress. Amethyst eases headaches and releases tension. It reduces bruising, swellings, injuries, and treats hearing disorders. Amethyst heals diseases of the lungs and respiratory tract, skin conditions, cellular disorders and diseases of the digestive tract.

Shop - Amethyst Jewellery & Gifts
Most gemstone jewellery is fairly durable, but some care does need to be taken.
When putting on a stretch bracelet, roll it on to your wrist gently. Do not pull it outwards as this can unneccesarily stretch the elastic out of shape.
Remove jewellery before doing any housework - household cleaners are corrosive and may permanently damage your gems;
Remove jewellery before doing any manual labour; or work requiring hands to be immersed in water.
Remove jewellery before swimming or showering - chlorine, some soaps and just immersing in water, may cause damage to your gemstones or their settings;
Remove jewellery before sleeping - tossing and turning in your sleep puts excess strain on your jewellery, causing it to become loose or even break;
Only put on your jewellery after perfume and/or hair care products have dried - these may cause breakdown of the stones;
Store in a dark place, out of direct sunlight, in a pouch, ziplock bag, or jewellery box - sunlight may cause fading of stones and the humidity in the air can cause tarnishing to silver.
General Cleaning
Silver can tarnish quite easily, leaving it looking black and dirty. To ensure that your silver is kept shiny it can be polished gently with a jewellery cloth, or you can use a standard silver polish.
Copper is likely to develop a distinctive patina. Patina is not a "defect", it is a natural by-product. If you do not like the patina effect, you can clean copper goods using standard copper polish.
TAKE CARE using polishes and tarnish removers around your gemstones, as these can cause your gemstones to become dull and fade.