Tourmaline Quartz Healing Bracelet With Silver Toggle Clasp
/
Tourmaline Quartz Healing Bracelet With Silver Toggle Clasp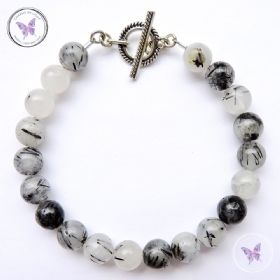 £
35.50
In stock
£35.50
Product code: BrTQ8t

Classically beautiful healing bracelet featuring 8mm round semi precious Tourmaline Quartz gemstone beads. This crystal bracelet is finished with a sterling silver toggle clasp, and measures approx. 19.5cm long.
All Charms Of Light Healing Jewellery is Reiki enhanced and hand made with love and healing intentions.

Please note that all photos are for reference purposes only. Due to the nature of crystals, all beads will vary slightly in shape, size, colour and pattern.
Tourmaline Quartz
♥ Balances opposites ♥ Grounding
Tourmaline Quartz, also known as Tourmalinated Quartz, is a variety of Clear Quartz with naturally occurring needle-like inclusions of Black Tourmaline, also known as Schorl.
Chakras - Third Eye Chakra
Zodiac - Capricorn
Element - Earth
Typical colours - Clear with needle-like crystals of Black Tourmaline.
Tourmaline Quartz combines the properties of Tourmaline and Clear Quartz Crystal. Tourmaline purifies ones own energies and protects from negativity, while Quartz amplifies energies focused through it. This combination makes Tourmaline Quartz a powerful shield-stone that, depending on the desired intent of the wearer, can amplify and return negative energy, like a mirror spell, or can convert the negative energy into positive energy for the wearer.
An effective grounding stone, Tourmaline Quartz strengthens the body's energy field against external invasion and deflects detrimental environmental influences. It is often seen as a symbol of unity and is an effective problem solver. It eliminates crystallised patterns which are, or may have been, destructive in ones own life and releases tensions at any level. Its liberating power against negative energy can be used to assist us to actualise the strength needed to alleviate negative or hostile relationships and situations. Tourmaline Quartz balances yin / yang energies. It harmonises disparate and opposite elements and polarities, and turns negative thoughts and energies into positive ones. Psychologically, it helps to integrate and heal the shadow energies, alleviating self-sabotage. It harmonises the meridians, the subtle bodies, and the chakras.
Tourmaline Quartz detoxifies the entire body and is used to treat disorders of the digestive tract.

Shop - Tourmaline Quartz Jewellery & Gifts
Most gemstone jewellery is fairly durable, but some care does need to be taken.
Remove jewellery before doing any housework - household cleaners are corrosive and may permanently damage your gems;
Remove jewellery before doing any manual labour; or work requiring hands to be immersed in water.
Remove jewellery before swimming or showering - chlorine, some soaps and just immersing in water, may cause damage to your gemstones or their settings;
Remove jewellery before sleeping - tossing and turning in your sleep puts excess strain on your jewellery, causing it to become loose or even break;
Only put on your jewellery after perfume and/or hair care products have dried - these may cause breakdown of the stones;
Store in a dark place, out of direct sunlight, in a pouch, ziplock bag, or jewellery box - sunlight may cause fading of stones and the humidity in the air can cause tarnishing to silver.
General Cleaning
Silver can tarnish quite easily, leaving it looking black and dirty. To ensure that your silver is kept shiny it can be polished gently with a jewellery cloth, or you can use a standard silver polish.
Copper is likely to develop a distinctive patina. Patina is not a "defect", it is a natural by-product. If you do not like the patina effect, you can clean copper goods using standard copper polish.
TAKE CARE using polishes and tarnish removers around your gemstones, as these can cause your gemstones to become dull and fade.