Dalmation Jasper Hematite Arrows Bracelet
/
Dalmation Jasper Hematite Arrows Bracelet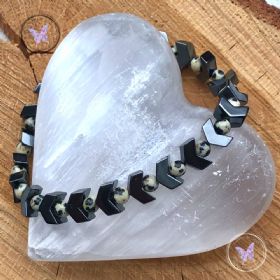 £
21.00
In stock
£21.00
Product code: Br279

Very pretty healing bracelet, created with Hematite arrows and Dalmation Jasper round gemstone beads. This bracelet is made to measure an average women's bracelet length of approx. 19cm long.
All Charms Of Light Healing Jewellery is Reiki enhanced and hand made with love and healing intentions.
Please note that all photos are for reference purposes only. Due to the nature of crystals, all beads will vary slightly in shape, size, colour and pattern.
If you require a different length, please let me know, and I will be happy to make it for you.
Jasper
♥ Relaxation ♥ Contentment ♥ Compassion ♥ Nurturing ♥ Consolation ♥ Tranquility ♥ Healing ♥ Completion
Jasper is a variety of Chalcedony, which is a microcrystalline variety of Quartz.
Zodiac - Leo, Virgo, Scorpio
Planet - Mars
Element - Fire
Numerical Vibration - Number 6
Typical colours - brown, red, orange, yellow, green
Jasper is known as the "supreme nurturer". It sustains and supports through times of stress, and brings tranquility and wholeness. Jasper provides protection and absorbs negative energy. It balances yin and yang. Jasper clears electromagnetic and environmental pollution, including radiation. It encourages honesty with one's self. Provides courage to assertively tackle problems. Aids quick-thinking and promotes organisational abilities. Jasper stimulates the imagination and transforms ideas into action. Prolongs sexual pleasure. It supports during prolonged illness and re-energises the body.
In addition to the generic healing properties of Jasper, specific colours and forms have additional attributes:
Dalmation Jasper
Chakras - Base Chakra
Zodiac - Virgo
Planet - Earth
Typical colours - light brown with black spots
Dalmation Jasper, also known as "Dalmation Stone", is a grounding stone, in terms of with the Earth and in reality. It removes disillusionment, helping one to see their strengths and weaknesses more clearly. Dalmation Jasper brings a sense of fun to one's life and helps to increase loyalty in relationships. It purifies the blood and boosts the immune system.

Shop - Jasper Jewellery & Gifts
Hematite
♥ Focus ♥ Concentration ♥ Willpower ♥ Reliability ♥ Courage ♥ Confidence ♥ Optimism ♥ Trust ♥ Balance ♥ Stability ♥ Protection
Hematite is also often spelled Haematite.
Chakras - Base Chakra
Zodiac - Aries, Aquarius
Planet – Mars
Element – Fire/Earth
Numerical Vibration - Number 9
Typical colours - Black to steel or silver-grey, brown to reddish brown, or red
Hematite grounds and protects us. It strengthens our connection with the earth, making us feel safe and secure. It endows us with courage, strength, endurance and vitality. A "stone for the mind", Hematite stimulates concentration and focus, enhancing memory and original thought.
Hematite utilises the magnetic qualities of our yin-yang energies to balance the meridians within the body and to provide a stable equilibrium between the ethereal nervous system and the physical nervous system. It focuses energy and emotions for balance between the body, mind and spirit.
Dissolves negativity and prevents you from absorbing the negativity of others. Haematite is strong, supporting timidity, boosting self-esteem and survivability, enhancing willpower and reliability, and imparting confidence. It helps to overcome compulsions and addictions, treating overeating, smoking and other forms of overindulgence.
Haematite restores, strengthens and regulates the blood supply, aiding blood conditions such as anaemia. It supports the kidneys and regenerates tissue. Stimulates the absorption of iron and formation of red blood cells. Treats leg cramps, anxiety and insomnia. Hematite aids spinal alignment and fractures.

Shop - Hematite Jewellery & Gifts
Most gemstone jewellery is fairly durable, but some care does need to be taken.
Remove jewellery before doing any housework - household cleaners are corrosive and may permanently damage your gems;
Remove jewellery before doing any manual labour; or work requiring hands to be immersed in water.
Remove jewellery before swimming or showering - chlorine, some soaps and just immersing in water, may cause damage to your gemstones or their settings;
Remove jewellery before sleeping - tossing and turning in your sleep puts excess strain on your jewellery, causing it to become loose or even break;
Only put on your jewellery after perfume and/or hair care products have dried - these may cause breakdown of the stones;
Store in a dark place, out of direct sunlight, in a pouch, ziplock bag, or jewellery box - sunlight may cause fading of stones and the humidity in the air can cause tarnishing to silver.
General Cleaning
Silver can tarnish quite easily, leaving it looking black and dirty. To ensure that your silver is kept shiny it can be polished gently with a jewellery cloth, or you can use a standard silver polish.
Copper is likely to develop a distinctive patina. Patina is not a "defect", it is a natural by-product. If you do not like the patina effect, you can clean copper goods using standard copper polish.
TAKE CARE using polishes and tarnish removers around your gemstones, as these can cause your gemstones to become dull and fade.