Menopause Cluster Necklace
/
Menopause Cluster Necklace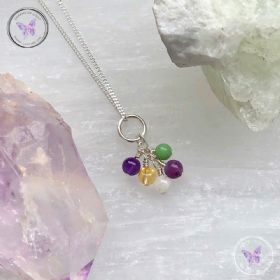 £
27.00
In stock
£27.00
Product code: N176

Gorgeous crystal cluster pendant made up of gemstones that help with menopause, handwired with sterling silver wire. The pendant measures approx. 20mm long from the top of the sterling silver ring bail and comes with a sterling silver chain necklace. Choose the length you would like (some lengths are at extra cost).

Gemstones included in this necklace are Amethyst, Chrysoprase, Citrine, Lepidolite, and Moonstone. They are each approx. 4mm in size.
All Charms Of Light Healing Jewellery is Reiki enhanced and hand made with love and healing intentions.

Please note that photos are for reference purposes only. Due to the nature of crystals, all beads will vary slightly in shape, size, colour and pattern.
Amethyst
♥ Increases nobility ♥ Spiritual awareness ♥ Psychic abilities ♥ Inner peace and healing ♥ Healing of body, mind & soul ♥ Positive transformation ♥ Meditation ♥ Balance ♥ Relieves stress ♥ Communication
Amethyst is a variety of Quartz and is a 6th Anniversary gemstone.
Chakras - Third Eye Chakra, Crown Chakra
Birthstone - February
Zodiac - Virgo, Sagittarius, Capricorn, Aquarius, Pisces
Planet – Jupiter
Element – Air, Water
Numerical Vibration - Number 3
Typical colours - light slightly-pinkish violet to a deep grape purple
Amethyst is a powerful and protective stone. It guards against psychic attack, transmuting the energy into love and protecting the wearer from all types of harm, including geopathic or electromagnetic stress and ill wishes from others. Amethyst is a natural tranquiliser, it relieves stress and strain, soothes irritability, balances mood swings, dispels anger, rage, fear and anxiety. Alleviates sadness and grief, and dissolves negativity. Amethyst activates spiritual awareness, opens intuition and enhances psychic abilities. It has strong healing and cleansing powers. Amethyst encourages sobriety, having a sobering effect on overindulgence of alcohol, drugs or other addictions. It calms and stimulates the mind, helping you become more focused, enhancing memory and improving motivation. Amethyst assists in remembering and understanding dreams. It relieves insomnia. Encourages selflessness and spiritual wisdom.
Amethyst boosts hormone production, tunes the endocrine system and metabolism. It strengthens the immune system, reduces pain and strengthens the body to fight against cancer. It destroys malignant tumours and aids in tissue regeneration. Cleanses the blood. Relieves physical, emotional and psychological pain or stress. Amethyst eases headaches and releases tension. It reduces bruising, swellings, injuries, and treats hearing disorders. Amethyst heals diseases of the lungs and respiratory tract, skin conditions, cellular disorders and diseases of the digestive tract.

Shop - Amethyst Jewellery & Gifts
Chrysoprase
♥ Spiritual protection ♥ Communication ♥ Eloquence ♥ Balance ♥ Stability ♥ Adaptability ♥ Alternatives ♥ Choices ♥ Higher Consciousness ♥ Youthful zest ♥ Hope
Chrysoprase is an apple-green variety of Chalcedony that contains small quantities of nickel.
Chakras - Sacral Chakra, Heart Chakra
Birthstone - May
Zodiac - Taurus, Gemini, Libra
Numerical Vibration - Number 3
Typical colours - Apple green
Chrysoprase opens, activates and energises the heart and sacral chakras, balances yin-yang energy, and brings Universal energy into the physical body. It induces deep meditative states, and imparts a sense of being a part of the divine whole.
Chrysoprase promotes love of truth. It promotes hope, and encourages fidelity in business and personal relationships. It stimulates creativity and draws out ones talents. Chrysoprase heals the inner child, releasing emotions locked in since childhood. It can mend a broken heart, heal relationships and transmute negative emotions into positive ones. Chrysoprase helps one to overcome compulsive or impulsive angry thoughts and behaviour, and turns your attention to positive events. It brings a sense of security and trust and is useful in healing codependence whilst supporting independence and encouraging commitment. It provides for non-judgmental attitudes and stimulates acceptance of oneself and others.
Chrysoprase is a strong detoxifying stone. It eliminates waste from the body, as well as the mind, by stimulating the liver and encouraging the body to rid itself of poisons. It is excellent for relaxation and promoting a peaceful night's sleep, reducing claustrophobia and preventing nightmares.
Chrysoprase balances the hormones and treats the reproductive organs, fertility problems, and guards against sexually transmitted diseases. It treats disorders of the lungs and thymus, and soothes the digestive system. Aids mental and physical illness and exhaustion. Treats skin diseases and disorders of the heart. Chrysoprase increases the assimilation of Vitamin C.

Shop - Chrysoprase Jewellery & Gifts
Citrine
♥ Happiness ♥ Prosperity ♥ Generosity ♥ Creativity ♥ Pleasure ♥ Protection ♥ Strength ♥ Alignment ♥ Confidence ♥ Stability ♥ Moderation ♥ Energy ♥ Comfort ♥ Success ♥ Truth ♥ Goodness ♥ Warmth ♥ Digestion ♥ Assimilation ♥ Enjoyment of life ♥ Spiritual growth
Citrine is a variety of Quartz. Citrine is a 13th Anniversary gemstone.
Chakras - Sacral Chakra, Solar Plexus Chakra, Crown Chakra
Birthstone - November
Zodiac - Aries, Gemini, Leo, Libra
Planet - Jupiter
Element - Air
Numerical Vibration - Number 6
Typical colours - yellow to yellowish brown or smokey grey-brown
Citrine energises every level of life. It cleanses the chakras and opens the intuition. Citrine attracts wealth, prosperity and success. It imparts joy, wonder, delight and enthusiasm. Raises self-esteem and self-confidence. Stimulates the brain, strengthening the intellect. Citrine promotes motivation, activates creativity and encourages self-expression. Enhances concentration and revitalises the mind. It releases negative traits, depression, fears and phobias. Emotionally balancing.
Energising and recharging, Citrine also reverses degenerative disease and helps balance chemical imbalances in the body. Beneficial in the treatment of diabetes, it stimulates digestion, the spleen and pancreas. Negates kidney and bladder infections. Citrine helps eye problems, increases blood circulation, detoxifies the blood, activates the thymus and balances the thyroid. Relieves constipation and removes cellulite.

Shop - Citrine Jewellery & Gifts
Lepidolite
♥ Transition ♥ Awareness ♥ Emotional Balance ♥ Meditation ♥ Prayer ♥ Goodness
Lepidolite is a mineral of the Mica group.
Chakras - Third Eye Chakra, Crown Chakra
Zodiac - Libra
Numerical Vibration - Number 8
Typical colours - Lilac, rose-violet
A "stone of transition", Lepidolite assists in the release and reorganisation of old behavioural and psychological patterns, gently inducing change. It brings deep emotional healing, soothing and reducing stress and depression. Lepidolite dissipates negativity and insists on being used for the highest good. It activates the throat, heart, third eye chakras and the intellect. It opens the crown chakra, clearing blockages and bringing cosmic awareness. Lepidolite facilitates astral travel and accesses the Akashic Record. It helps to take you forward into the future, tuning you in to thoughts and feelings from other lives that are creating a blockage in your life now.
Lepidolite aids in overcoming any kind of emotional or mental dependency, supporting in the release of addictions and complaints of all kinds, including anorexia. It encourages independence and self love and trust. Lepidolite combines its power of objectivity with direction and unimpeded communication, focusing on what is important and making it an excellent stone for business pursuits.
Lepidolite clears electromagnetic pollution. Strengthens the immune system, soothes the nervous system and can be used to restructure DNA. Lepidolite relieves exhaustion and aids in the relief of tension and related disorders. It can relieve allergies and greatly help with epilepsy and Alzheimers. It numbs sciatica and neuralgia, and overcomes joint problems. Lepidolite stabilises mood swings and is excellent for the menopause. It treats illnesses caused by "sick-building syndrome" or computer stress. Excellent for bipolar disorders.

Shop - Lepidolite Jewellery & Gifts
Moonstone
♥ Happiness ♥ Good fortune ♥ Nurturing ♥ Mothering ♥ Unselfishness ♥ Humanitarian ♥ Love ♥ Hope ♥ Spiritual insight ♥ Easy childbirth ♥ Safe travel ♥ New beginnings ♥ Abundance ♥ Ancient wisdom
Moonstone is a 3rd Anniversary gemstone.
Chakras - Third Eye Chakra, Solar Plexus Chakra
Birthstone - June
Zodiac - Cancer, Libra, Scorpio
Planet - Moon
Element - Water
Numerical Vibration - Number 4
Typical colours - cream, yellow, blue, grey, peach/pink
A stone for "new beginnings", Moonstone is a stone of inner growth and strength. It soothes emotional instability and stress, and stabilises the emotions, providing calmness. Moonstone enhances intuition, promotes inspiration, success and good fortune in love and business matters.
Moonstone aids the digestive system, assimilates nutrients, eliminates toxins and fluid retention, and alleviates degenerative conditions of skin, hair, eyes, and fleshy organs such as the liver and pancreas. It stimulates the pineal gland and balances hormonal cycles, being excellent for PMS, conception, pregnancy, childbirth, and breast-feeding. Moonstone is also beneficial to men in opening the emotional self.

Shop - Moonstone Jewellery & Gifts
Most gemstone jewellery is fairly durable, but some care does need to be taken.
Remove jewellery before doing any housework - household cleaners are corrosive and may permanently damage your gems;
Remove jewellery before doing any manual labour; or work requiring hands to be immersed in water.
Remove jewellery before swimming or showering - chlorine, some soaps and just immersing in water, may cause damage to your gemstones or their settings;
Remove jewellery before sleeping - tossing and turning in your sleep puts excess strain on your jewellery, causing it to become loose or even break;
Only put on your jewellery after perfume and/or hair care products have dried - these may cause breakdown of the stones;
Store in a dark place, out of direct sunlight, in a pouch, ziplock bag, or jewellery box - sunlight may cause fading of stones and the humidity in the air can cause tarnishing to silver.
General Cleaning
If your macrame jewellery requires cleaning, you can use some mild or diluted liquid soap on the cord only, on occasion. Make sure you rinse the soap off quickly with cold water and dry the cord by pressing between a soft towel to remove excess water.
Silver can tarnish quite easily, leaving it looking black and dirty. To ensure that your silver is kept shiny it can be polished gently with a jewellery cloth, or you can use a standard silver polish.
Copper is likely to develop a distinctive patina. Patina is not a "defect", it is a natural by-product. If you do not like the patina effect, you can clean copper goods using standard copper polish.
Brass will naturally tarnish, leaving a greenish patina. Patina is not a "defect", it is a natural by-product that adds colour and character. To preserve the patina effect, you can clean your brass jewellery with soap and warm water every now and then, to remove the dirt and grime build up. Simply wipe gently with a soft cloth and dry the jewellery well, to avoid water stains. If you do not like the patina, using a polishing cloth will remove it, or you can use a simple mixture of the juice of one lemon and one cup of water. Submerge the brass in the mixture and leave in the juice for about 15-30 minutes. Use a soft cloth or a soft-bristled toothbrush to gently remove the tarnish. Rinse thoroughly with water and wipe dry.
TAKE CARE using polishes and tarnish removers around your gemstones, as these can cause your gemstones to become dull and fade.
A soft cloth can be used to wipe over all your gemstones. As some gemstones are more sensitive to getting wet than others, it is always better to keep them dry as much as possible.