Men's Hematite, Lapis Lazuli, Bloodstone & Lepidolite Bracelet
/
Men's Hematite, Lapis Lazuli, Bloodstone & Lepidolite Bracelet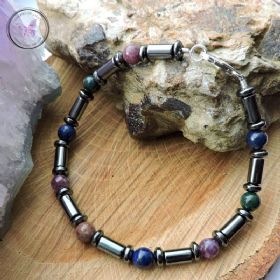 £
26.00
In stock
£26.00
Product code: Br208

Fabulous Men's bracelet featuring 6mm Hematite gemstone rondelle beads and 4x8mm Hematite gemstone tube beads, with 6mm round Lapis Lazuli gemstone beads, 6mm round Bloodstone gemstone beads, and 6mm round Lepidolite gemstone beads. This bracelet measures approx. 22cm long and has a sterling silver carabiner clasp.
All Charms Of Light Healing Jewellery is Reiki enhanced and hand made with love and healing intentions.

Please note that photos are for reference purposes only. Due to the nature of crystals, all beads will vary slightly in shape, size, colour and pattern.
Hematite
♥ Focus ♥ Concentration ♥ Willpower ♥ Reliability ♥ Courage ♥ Confidence ♥ Optimism ♥ Trust ♥ Balance ♥ Stability ♥ Protection
Hematite is also often spelled Haematite.
Chakras - Base Chakra
Zodiac - Aries, Aquarius
Planet – Mars
Element – Fire/Earth
Numerical Vibration - Number 9
Typical colours - Black to steel or silver-grey, brown to reddish brown, or red
Hematite grounds and protects us. It strengthens our connection with the earth, making us feel safe and secure, which in turn gives us the strength to create healthy boundaries energetically and emotionally. It endows us with courage, endurance and vitality. A "stone for the mind", Hematite stimulates concentration and focus, enhancing memory and original thought.
Hematite utilises the magnetic qualities of our yin-yang energies to balance the meridians within the body and to provide a stable equilibrium between the ethereal nervous system and the physical nervous system. It focuses energy and emotions for balance between the body, mind and spirit.
Dissolves negativity and prevents you from absorbing the negativity of others. Haematite is strong, supporting timidity, boosting self-esteem and survivability, enhancing willpower and reliability, and imparting confidence. It helps to overcome compulsions and addictions, treating overeating, smoking and other forms of overindulgence.
Haematite restores, strengthens and regulates the blood supply, aiding blood conditions such as anaemia. It supports the kidneys and regenerates tissue. Stimulates the absorption of iron and formation of red blood cells. Treats leg cramps, anxiety and insomnia. Hematite aids spinal alignment and fractures.

Shop - Hematite Jewellery & Gifts
Lapis Lazuli
♥ Inner truth ♥ Inner power ♥ Love ♥ Purification ♥ Intuition ♥ Positive magic ♥ Self-confidence ♥ Manifestation ♥ Friendship
Lapis Lazuli is a combination rock type of Calcite, Lazurite & Pyrite. Lapis Lazuli is a 9th Anniversary gemstone.
Chakras - Throat Chakra, Third Eye Chakra
Birthstone - September
Zodiac - Taurus, Virgo, Libra, Sagittarius
Element - Water
Numerical Vibration - Number 3
Typical colours - Deep blue flecked with gold (Pyrite)
A stone of protection that may be worn to guard against psychic attacks, Lapis Lazuli quickly releases stress, bringing deep peace. It brings harmony and deep inner self-knowledge. Encourages self-awareness, allows self-expression and reveals inner truth, providing qualities of honesty, compassion and morality to the personality. Stimulates objectivity, clarity and encourages creativity. Lapis Lazuli assists to confront and speak one's truth and inspires confidence. It bonds relationships, aiding in expression of feelings and emotions.
Lapis Lazuli boosts the immune system, purifies blood, lowers blood pressure, cooling and soothing areas of inflammation. It alleviates insomnia and vertigo, and overcomes depression. Lapis Lazuli benefits the respiratory and nervous systems and the throat, vocal cords, and thyroid, cleanses organs, bone marrow and thymus.

Shop - Lapis Lazuli Jewellery & Gifts
Bloodstone
♥ Abundance ♥ Alignment ♥ Organisation ♥ Smooth energy flow ♥ Generosity ♥ Idealism ♥ Good fortune ♥ Purification
Bloodstone is a form of Chalcedony and is also known as Heliotrope.
Chakras - Base Chakra
Birthstone - March
Zodiac - Aries, Libra, Pisces
Planet - Mars
Element - Earth
Numerical Vibration - Numbers 4 and 6
Typical colours - Dark green / greenish-blue with small red blood-like spots
Bloodstone is an excellent blood cleanser and a powerful healing stone. It heightens intuition and increases creativity. It is grounding and protecting. Bloodstone draws off negative environmental energy, helping to overcome influences such as geopathic or electromagnetic stress. It stimulates dreaming and is a powerful revitaliser. Gives courage and teaches you how to avoid dangerous situations. Bloodstone encourages selflessness and idealism. Assists in acting in the present moment. Bloodstone calms and revitalises the mind, dispels confusion and enhances decision-making. Assists in adjusting to unaccustomed circumstances. Reduces irritability, aggressiveness and impatience.
Ideal for anaemia, Bloodstone purifies and fortifies the blood. It detoxifies the liver, intestines, kidneys, spleen and bladder. Bloodstone regulates and supports blood flow and aids in the circulation. It reduces pus formation, neutralises toxins and stimulates the lymphatic system, healing inflammations and infections. Bloodstone is also helpful in healing blood related cancers such as leukaemia, and will assist in the treatment of HIV/Aids.

Shop - Bloodstone Jewellery & Gifts
Lepidolite
♥ Transition ♥ Awareness ♥ Emotional Balance ♥ Meditation ♥ Prayer ♥ Goodness
Lepidolite is a mineral of the Mica group.
Chakras - Third Eye Chakra, Crown Chakra
Zodiac - Libra
Numerical Vibration - Number 8
Typical colours - Lilac, rose-violet
A "stone of transition", Lepidolite assists in the release and reorganisation of old behavioural and psychological patterns, gently inducing change. It brings deep emotional healing, soothing and reducing stress and depression. Lepidolite dissipates negativity and insists on being used for the highest good. It activates the throat, heart, third eye chakras and the intellect. It opens the crown chakra, clearing blockages and bringing cosmic awareness. Lepidolite facilitates astral travel and accesses the Akashic Record. It helps to take you forward into the future, tuning you in to thoughts and feelings from other lives that are creating a blockage in your life now.
Lepidolite aids in overcoming any kind of emotional or mental dependency, supporting in the release of addictions and complaints of all kinds, including anorexia. It encourages independence and self love and trust. Lepidolite combines its power of objectivity with direction and unimpeded communication, focusing on what is important and making it an excellent stone for business pursuits.
Lepidolite clears electromagnetic pollution. Strengthens the immune system, soothes the nervous system and can be used to restructure DNA. Lepidolite relieves exhaustion and aids in the relief of tension and related disorders. It can relieve allergies and greatly help with epilepsy and Alzheimers. It numbs sciatica and neuralgia, and overcomes joint problems. Lepidolite stabilises mood swings and is excellent for the menopause. It treats illnesses caused by "sick-building syndrome" or computer stress. Excellent for bipolar disorders.

Shop - Lepidolite Jewellery & Gifts
Most gemstone jewellery is fairly durable, but some care does need to be taken.
Remove jewellery before doing any housework - household cleaners are corrosive and may permanently damage your gems;
Remove jewellery before doing any manual labour; or work requiring hands to be immersed in water.
Remove jewellery before swimming or showering - chlorine, some soaps and just immersing in water, may cause damage to your gemstones or their settings;
Remove jewellery before sleeping - tossing and turning in your sleep puts excess strain on your jewellery, causing it to become loose or even break;
Only put on your jewellery after perfume and/or hair care products have dried - these may cause breakdown of the stones;
Store in a dark place, out of direct sunlight, in a pouch, ziplock bag, or jewellery box - sunlight may cause fading of stones and the humidity in the air can cause tarnishing to silver.
General Cleaning
Silver can tarnish quite easily, leaving it looking black and dirty. To ensure that your silver is kept shiny it can be polished gently with a jewellery cloth, or you can use a standard silver polish.
Copper is likely to develop a distinctive patina. Patina is not a "defect", it is a natural by-product. If you do not like the patina effect, you can clean copper goods using standard copper polish.
TAKE CARE using polishes and tarnish removers around your gemstones, as these can cause your gemstones to become dull and fade.