Sugilite Silver Chandelier Drop Earrings
/
Sugilite Silver Chandelier Drop Earrings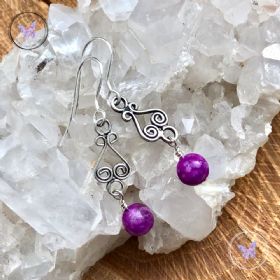 £
18.00
In stock
£18.00
Product code: ESug005

Gorgeous chandelier style Sugilite earrings in sterling silver . These earrings dangle approx. 38mm long from the top of the earwires.
All Charms Of Light Healing Jewellery is Reiki enhanced and hand made with love and healing intentions.
Please note that photos are for reference purposes only. Due to the nature of crystals, all beads will vary slightly in shape, size, colour and pattern.
Sugilite
♥ Awareness ♥ Spirituality ♥ Positive thoughts and feelings ♥ Channeling ability
Chakras - Heart Chakra, Third Eye Chakra, Crown Chakra
Zodiac - Virgo
Planet - Pluto
Element - Water
Numerical Vibration - Number 3
Origin - Japan, South Africa
Typical colours - Violet pink to lavender to purple
Sugilite is today's "love stone", representing spiritual love. It opens the chakras and brings them into alignment with the flow of love. Sugilite enhances the development of spiritual awareness, promotes channeling ability and teaches to live from our truth and to believe in our sixth sense, or intuition. It encourages positive thoughts, alleviating sorrow, grief and fear.
Sugilite is excellent in relieving pain and discomfort at all levels.

Shop - Sugilite Jewellery & Gifts
Most gemstone jewellery is fairly durable, but some care does need to be taken.
Remove jewellery before doing any housework - household cleaners are corrosive and may permanently damage your gems;
Remove jewellery before doing any manual labour; or work requiring hands to be immersed in water.
Remove jewellery before swimming or showering - chlorine, some soaps and just immersing in water, may cause damage to your gemstones or their settings;
Remove jewellery before sleeping - tossing and turning in your sleep puts excess strain on your jewellery, causing it to become loose or even break;
Only put on your jewellery after perfume and/or hair care products have dried - these may cause breakdown of the stones;
Store in a dark place, out of direct sunlight, in a pouch, ziplock bag, or jewellery box - sunlight may cause fading of stones and the humidity in the air can cause tarnishing to silver.
General Cleaning
Silver can tarnish quite easily, leaving it looking black and dirty. To ensure that your silver is kept shiny it can be polished gently with a jewellery cloth, or you can use a standard silver polish.
Copper is likely to develop a distinctive patina. Patina is not a "defect", it is a natural by-product. If you do not like the patina effect, you can clean copper goods using standard copper polish.
TAKE CARE using polishes and tarnish removers around your gemstones, as these can cause your gemstones to become dull and fade.