Lapis Lazuli, Peridot & Black Onyx Chip Bracelet
/
Lapis Lazuli, Peridot & Black Onyx Chip Bracelet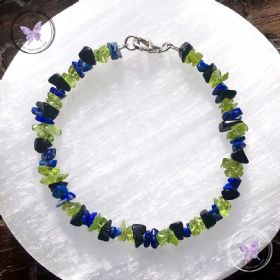 £
20.50
In stock
£20.50
Product code: Br314

Pretty mixed gemstone chip bracelet featuring Lapis Lazuli, Peridot, and Black Onyx crystal beads. This bracelet measures approx. 19cm and has a sterling silver carabiner clasp.
Looks great on its own or stacked with other bracelets.
All Charms Of Light Healing Jewellery is Reiki enhanced and hand made with love and healing intentions.

Please note that photos are for reference purposes only. Due to the nature of crystals, all beads will vary slightly in shape, size, colour and pattern.
Lapis Lazuli
♥ Inner truth ♥ Inner power ♥ Love ♥ Purification ♥ Intuition ♥ Positive magic ♥ Self-confidence ♥ Manifestation ♥ Friendship
Lapis Lazuli is a combination rock type of Calcite, Lazurite & Pyrite. Lapis Lazuli is a 9th Anniversary gemstone.
Chakras - Throat Chakra, Third Eye Chakra
Birthstone - September
Zodiac - Taurus, Virgo, Libra, Sagittarius
Element - Water
Numerical Vibration - Number 3
Typical colours - Deep blue flecked with gold (Pyrite)
A stone of protection that may be worn to guard against psychic attacks, Lapis Lazuli quickly releases stress, bringing deep peace. It brings harmony and deep inner self-knowledge. Encourages self-awareness, allows self-expression and reveals inner truth, providing qualities of honesty, compassion and morality to the personality. Stimulates objectivity, clarity and encourages creativity. Lapis Lazuli assists to confront and speak one's truth and inspires confidence. It bonds relationships, aiding in expression of feelings and emotions.
Lapis Lazuli boosts the immune system, purifies blood, lowers blood pressure, cooling and soothing areas of inflammation. It alleviates insomnia and vertigo, and overcomes depression. Lapis Lazuli benefits the respiratory and nervous systems and the throat, vocal cords, and thyroid, cleanses organs, bone marrow and thymus.

Shop - Lapis Lazuli Jewellery & Gifts
Peridot
♥ Healing ♥ Renewal ♥ Purification ♥ Rebirth ♥ Growth ♥ Relaxation ♥ Comfort ♥ Intuition
Peridot, also known as Chrysolite, is a variety of Olivine. Peridot is a 16th Anniversary gemstone.
Chakras - Solar Plexus Chakra, Heart Chakra
Birthstone - August
Zodiac - Gemini, Leo, Virgo, Scorpio, Sagittarius
Planet - Mercury
Element - Earth
Numerical Vibration - Numbers 6 and 8
Typical colours - Olive green, bottle green, yellowish-green
Peridot is a powerful cleanser. It releases and neutralises toxins on all levels. Alleviates jealousy, resentment, spite, bitterness, irritation, hatred and greed. Reduces stress, anger and guilt. Peridot opens our hearts to joy and new relationships. It enhances confidence and assertion, motivating growth and change. Sharpens and opens the mind to new levels of awareness. Banishes lethargy, apathy and exhaustion. Peridot enables you to take responsibility for your own life.
Peridot strengthens the immune system, metabolism and benefits the skin. It aids disorders of the heart, thymus, lungs, gallbladder, spleen and intestinal tract. Treats ulcer and strengthens eyes. Balances bipolar disorders and overcomes hypochondria.

Shop - Peridot Jewellery & Gifts
Onyx
♥ Strength ♥ Stamina ♥ Constancy ♥ Permanence ♥ Firmness ♥ Durability ♥ Self-control
Onyx is a variety of Chalcedony. Onyx is a 7th Anniversary gemstone.
Zodiac - Gemini, Leo
Element - Earth
Numerical Vibration - Number 6
Typical colours - Black, grey, white, blue, brown, yellow, red, green
Onyx gives strength. It promotes vigor, steadfastness and stamina. Imparts self-confidence, helping you to be at ease in your surroundings. Onyx banishes grief, enhances self-control and stimulates the power of wise decision-making. It encourages happiness and good fortune.
Onyx treats disorders of the bones, bone marrow and blood. It is beneficial for teeth and the feet.
In addition to the generic healing properties of Onyx, specific colours and types have additional attributes:
Black Onyx is associated with our Base Chakra.

Shop - Onyx Jewellery & Gifts
Most gemstone jewellery is fairly durable, but some care does need to be taken.
Remove jewellery before doing any housework - household cleaners are corrosive and may permanently damage your gems;
Remove jewellery before doing any manual labour; or work requiring hands to be immersed in water.
Remove jewellery before swimming or showering - chlorine, some soaps and just immersing in water, may cause damage to your gemstones or their settings;
Remove jewellery before sleeping - tossing and turning in your sleep puts excess strain on your jewellery, causing it to become loose or even break;
Only put on your jewellery after perfume and/or hair care products have dried - these may cause breakdown of the stones;
Store in a dark place, out of direct sunlight, in a pouch, ziplock bag, or jewellery box - sunlight may cause fading of stones and the humidity in the air can cause tarnishing to silver.
General Cleaning
Silver can tarnish quite easily, leaving it looking black and dirty. To ensure that your silver is kept shiny it can be polished gently with a jewellery cloth, or you can use a standard silver polish.
Copper is likely to develop a distinctive patina. Patina is not a "defect", it is a natural by-product. If you do not like the patina effect, you can clean copper goods using standard copper polish.
TAKE CARE using polishes and tarnish removers around your gemstones, as these can cause your gemstones to become dull and fade.